Neuro-inspired research
Joint collaboration between : CNRS UMR 5022 & INSERM U887, ISL, EyeNetics and General Vision.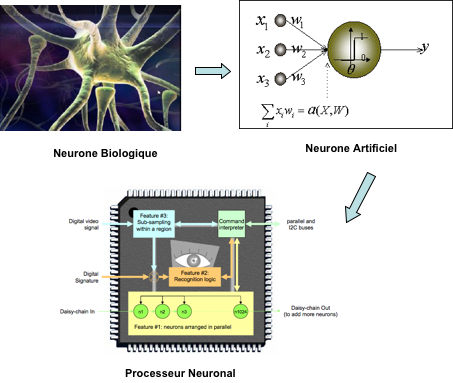 Recent research in Information and Communications Science and Technology (STIC) and, especially, in Signal and Image Processing, has made it possible to envisage the development of on-board systems designed for real-time face recognition and movement analysis, as well as for mobile robots for assisted living for handicapped persons.

While these may be high-performance devices, they also have limitations, such those related to difficulties in adapting to a wide-range of natural environments, as well as to the autonomy of the on-board systems due to power consumption issues and processor size. These limitations are true scientific and technological stumbling blocks and, in order to overcome them, one promising avenue of exploration is bio-inspired systems.

As a result, our research and development work in the area of "bio-inspired engineering" is highly interdisciplinary and promises to have considerable impact in terms of transfer technology. This work is part of an integrated regional, inter-regional, national and international partnership.
Our research in bio-inspired engineering is most directly related to the following:
The design of electronic and computer systems that incorporate artificial neural networks in order to process visual, auditory, and electro-physiological signals
Determining context effects emanating from a range of natural environments
Testing applications involving mobile robots designed to assist the elderly at home. Providing assistance to handicapped persons and learning specialized abilities
A mobile robot with an on-board vision system
A vision system using
a GogniMem neuronal processor